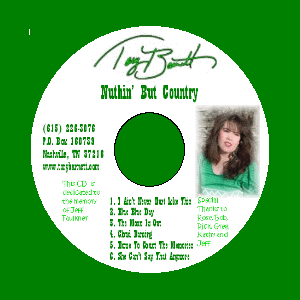 NUTHIN" BUT COUNTRY/Artist: Tory Barnett
"Now, this CD is what country music is all about. Tory Barnett is a traditionalist in the mold of Patsy Cline and Kitty Wells. She has a beautiful voice that has just the right amount of twang, which she shows off on the "Cloud Dancing" cut. In fact, Barnett reminds me a lot of Patti Page who had several country crossover pop hits. There are only six cuts on the CD, and that's the problem. It leaves you wanting for more. So you'll want to catch her performance at the Fiddle & Steel Guitar Bar in Nashville where you can pick up a copy of the album or log on to www.torybarnett.com."
Rating: Six Stars******
Reprinted from NASHVILLE MUSIC GUIDE, June, 2001, Review by Brad Fischer in his column, "Fischer About You".
Tory's new CD "Nuthin' But Country" is now available.
The CD contains an original composition by Tory and her friends/songwriters/artists Shane Douglas and Brian Martin, "I Ain't Never Hurt Like This", as well as two original songs written by songwriter/artist Eddie Mugavero, "Cloud Dancing" and "The Moon Is Out". Tory also included three previously recorded songs, "She Can't Say That Anymore", "Home To Count The Memories" and "Blue Blue Day".
Tory has dedicated this project to the memory of friend and fan club member Jeff Faulkner. Jeff and his wife Kathy were some of the first members of Tory's fan club and have always believed and supported her.
In the few weeks since the CD has been released Tory has recieved a great response, including airplay on WFMS, 95.5, Indianapolis, Indiana.
---
"Nuthin' But Country" can be purchased through the Tory Barnett Fan Club.
---
Home | Bio | Bookings | Family Album | Fan Club | Itinerary | Links
Photos of Tory | Merchandise | Listen to Tory | Guestbook | Fan Forum